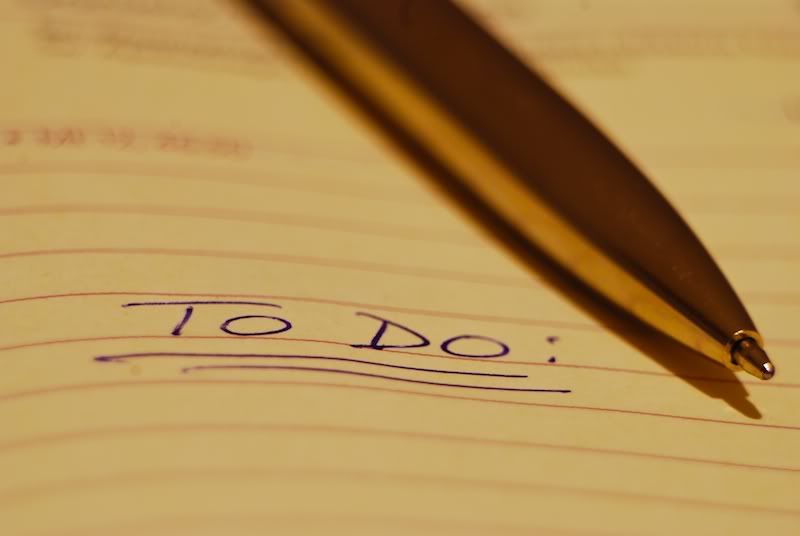 You have decided that you will no longer allow an atmosphere of stress in your home. You have a good arsenal of reasons as to why home organization is important. You are pumped up, full of adrenaline, ready to change things in your humble abode. You wake up one morning and say "This is the day!" You are going to become a cleaning, dust-conquering, laundry tackling, bathroom wrangling woman. Perhaps after this moment of euphoric determination you come to a terrible realization. This type of will-stopping thought generally keeps most of us who are perfectionists from even starting in the first place. Just how do I start? Where? How do I get organized?
First things first.
Breathe.
Take a moment to slow down and get off that "I'm going to conquer the chaos in my home" high or climb out of the pit of "I don't know what I am doing!" despair. Organization starts with a calm attitude. You need to be able to see the forest and not just the trees. You can be organized, I promise. But you need a plan and in order to devise that plan you need a clear head and maybe a cup of coffee.
Next, remember this: you will not become organized in one day. Small, focused steps will make more of a difference than trying to learn a brand-new way of living all in a 24-hour period. While you may want everything to happen right now, at this minute, you will more than likely wear yourself out and become discouraged. Unless you suddenly get a call that the Queen of England is going to visit your home tomorrow morning, do not try to get it all done today. Don't do it.
After you have come to this understanding, get out a sheet of paper and your favorite pen. Look around you and jot down a few things that you notice. You may write down something like these:
The kitchen floor hasn't been swept in 3 weeks. Get this done.
The laundry baskets are full of wrinkled clothing. We need clean clothes and my husband has run out of underwear.
Our homeschool cabinet is overflowing and there is no rhyme nor reason to the shelves. I am so stressed out during school time because I am constantly having to stop lessons in order to dig around for what I need.
I have a pile of bills that probably are overdue. Some of them are on the counter, on the floor next to the front door, still in the mailbox, etc.
And so on.
After you have made all your observations, read through them. You will notice quickly what your biggest stress factors are. Do not try and list everything as the point of this exercise is not to nitpick all the faults of your homes' mismanaged ways. Instead list what immediately comes to mind and you will get a clearer picture of where you need to start. Keep these in the back of your mind.
There are a few "get organized" online and book form resources I will recommend in my next post. Until then, just to get you started, let me suggest you do the following that will help you make those needed small steps:
Right now, get a sticky note and pick one thing you wrote on your list. Do it.
If you have children at home, get them involved. Again, I will create a separate post in this series on just how to do this.
Until you have some form of schedule or routine in place, make a list each morning of three things you want to get accomplished that day. Do them. I promise just this small list of accomplished items will help your attitude and will ease you into becoming organized.
Adjust your attitude. A "cannot, will not, I don't want to" type of thinker won't get anywhere far. We want to be successful home managers and in order to do that we need to make ourselves do what we do not feel like doing.
Last but not least: "Less is more." You will see what I mean later on, but just like your list you made earlier, keep it in the back of your mind.
What tips do you have to getting started in home organization?
If you enjoyed this post, may I recommend "A Disclaimer on Home Organization?"
Photo credit: Mattox
If you enjoyed this post, make sure you subscribe to my RSS feed!